CRPF GENERAL DUTY MEDICAL OFFICERS GDMOs WALK-IN-INTERVIEW NOTIFICATION 2023
______________________________________________
Disclaimer:-
We, at Jehlum, only post jobs/scholarship updates on behalf of employers/universities. We are only advertisers and as such, we DO NOT know anything about these updates apart from whatever you find in the description of these posts on our website. Our viewers/subscribers are requested not to contact us in order to apply for the jobs/scholarships. Procedures to apply on these jobs/scholarships are already mentioned in the description on our website and everyone is requested to do as directed, in the description, in order to reach out to employers and/or apply for such posts.
In order to stay updated about future jobs/scholarship opportunities, keep checking our WEBSITE(WEBSITE) on a daily basis OR to receive these notification updates on your phone, join our TELEGRAM CHANNEL(TELEGRAM CHANNEL). Also, for the information of our viewers, we DO NOT HAVE ANY WHATSAPP GROUP, so please don't bother asking about the same. Thanks in advance. You could also follow us on Linkedin/ INSTAGRAM if you prefer the social media over messaging apps and websites.
=========================================
WINDOW ADVERTISEMENT
WALK-IN-INTERVIEW IN CRPF
FOR APPOINTMENT OF GENERAL DUTY MEDICAL OFFICERS (Help line No.-011-24368630)
Applications are invited from the willing and eligible General Duty Medical Officers (Male & Female) below 70 years as on date of Walk-in-interview for the following posts in various Composite Hospitals/Group Centre on contractual basis :-
S1. No.
Date and time of Interview
Venue/Interview Centre
1 04/12/2023 at 0900 hrs
Composite Hospital, CRPF, Jagdalpur
2
3
04/12/2023 at 0900 hrs
Composite Hospital, CRPF, Guwahati
04/12/2023 at 0900 hrs
Group Centre, CRPF, Srinagar
04/12/2023 at 0900 hrs
Composite Hospital, CRPF, Nagpur
Interview to be held for Bns/Institution
No. of vacancies of GDMOs.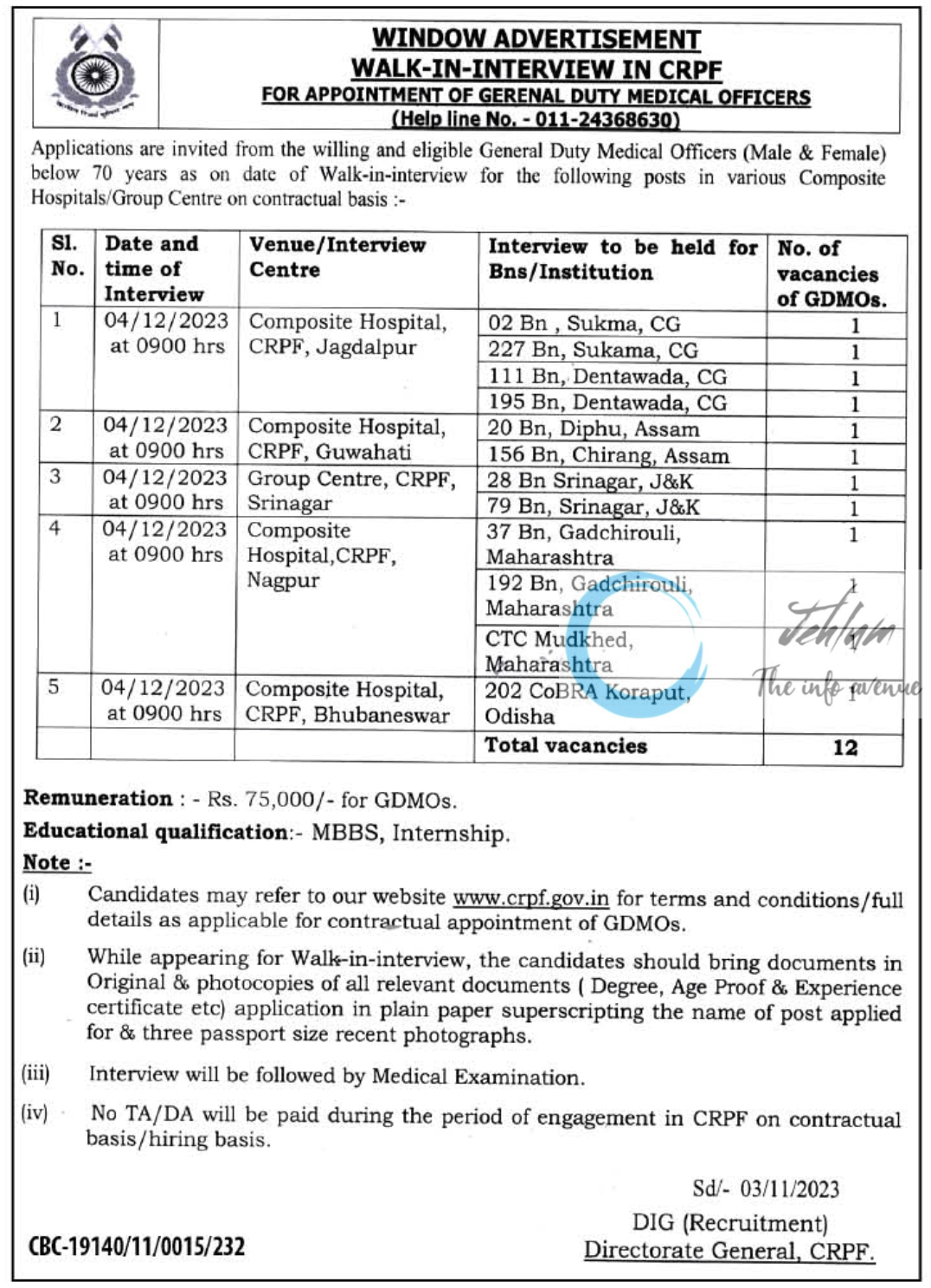 02 Bn, Sukma, CG
1
227 Bn, Sukama, CG
1
111 Bn, Dentawada, CG
1
195 Bn, Dentawada, CG
1
20 Bn, Diphu, Assam
1
156 Bn, Chirang, Assam
1
28 Bn Srinagar, J&K
1
79 Bn, Srinagar, J&K
1
37 Bn, Gadchirouli, Maharashtra
1
192 Bn, Gadchirouli, Maharashtra
1
CTC Mudkhed, Maharashtra
1
202 COBRA Koraput, Odisha
1
Total vacancies
12
4
5
04/12/2023 at 0900 hrs
Composite Hospital, CRPF, Bhubaneswar
Remuneration: Rs. 75,000/- for GDMOS.
Educational qualification:- MBBS, Internship.
Note:-
(i) Candidates may refer to our website www.crpf.gov.in for terms and conditions/full details as applicable for contractual appointment of GDMOS.
(ii) While appearing for Walk-in-interview, the candidates should bring documents in Original & photocopies of all relevant documents (Degree, Age Proof & Experience certificate etc) application in plain paper superscripting the name of post applied for & three passport size recent photographs.
(iii) Interview will be followed by Medical Examination.
(iv) No TA/DA will be paid during the period of engagement in CRPF on contractual basis/hiring basis.
Sd/- 03/11/2023
CBC-19140/11/0015/232
DIG (Recruitment)
Directorate General, CRPF.
CRPF GENERAL DUTY MEDICAL OFFICERS GDMOs WALK-IN-INTERVIEW NOTIFICATION 2023
CRPF GENERAL DUTY MEDICAL OFFICERS GDMOs WALK-IN-INTERVIEW NOTIFICATION 2023
CRPF GENERAL DUTY MEDICAL OFFICERS GDMOs WALK-IN-INTERVIEW NOTIFICATION 2023
CRPF GENERAL DUTY MEDICAL OFFICERS GDMOs WALK-IN-INTERVIEW NOTIFICATION 2023
CRPF GENERAL DUTY MEDICAL OFFICERS GDMOs WALK-IN-INTERVIEW NOTIFICATION 2023
CRPF GENERAL DUTY MEDICAL OFFICERS GDMOs WALK-IN-INTERVIEW NOTIFICATION 2023
CRPF GENERAL DUTY MEDICAL OFFICERS GDMOs WALK-IN-INTERVIEW NOTIFICATION 2023
CRPF GENERAL DUTY MEDICAL OFFICERS GDMOs WALK-IN-INTERVIEW NOTIFICATION 2023
CRPF GENERAL DUTY MEDICAL OFFICERS GDMOs WALK-IN-INTERVIEW NOTIFICATION 2023
CRPF GENERAL DUTY MEDICAL OFFICERS GDMOs WALK-IN-INTERVIEW NOTIFICATION 2023
CRPF GENERAL DUTY MEDICAL OFFICERS GDMOs WALK-IN-INTERVIEW NOTIFICATION 2023