SKUAST KASHMIR DIVISION OF VETERINARY CLINICAL COMPLEX JOBS ADVERTISEMENT NOTICE 2023.
______________________________________________
Disclaimer:-
We, at Jehlum, only post jobs/scholarship updates on behalf of employers/universities. We are only advertisers and as such, we DO NOT know anything about these updates apart from whatever you find in the description of these posts on our website. Our viewers/subscribers are requested not to contact us in order to apply for the jobs/scholarships. Procedures to apply on these jobs/scholarships are already mentioned in the description on our website and everyone is requested to do as directed, in the description, in order to reach out to employers and/or apply for such posts.
In order to stay updated about future jobs/scholarship opportunities, keep checking our WEBSITE(WEBSITE) on a daily basis OR to receive these notification updates on your phone, join our TELEGRAM CHANNEL. Also, for the information of our viewers, we DO NOT HAVE ANY WHATSAPP GROUP, so please don't bother asking about the same. Thanks in advance. You could also follow us on Linkedin(Linkedin)/ INSTAGRAM if you prefer the social media over messaging apps and websites.
=========================================
SKUAST KASHMIR
Division of Veterinary Clinical Complex
Faculty of Veterinary Science & AH, Shuhama, Alusteng
ADVERTISEMENT NOTICE
Applications are invited for a contractual position of one Project Assistant (PA) for a period of 02 years in a DBT, Govt. of India sponsored project titled "Bone marrow stem cell loaded-bioactive ceramic: A cell based therapeutic approach for the treatment of bone gap defects" as per the terms and conditions of the funding agency and the host University.
Application shall include a detailed CV and qualification/experience certificates.
S.NO
POSITION (NUMBER)
1.
.
Project Assistant (01)
SALARY/PER MONTH
@ 20,000 PM+HRA or as approved
ELIGIBILITY
Essential qualification: ⚫ BVSc/BSc
Desirable qualification:
. Masters in Biotechnology/ Biochemistry/ Physiology/
Microbiology/Pathology
Experience in stem cell culture, molecular diagnostic techniques and animal model preparation
No TA/DA shall be provided for application submission/ appearing in the interview.
Last date for submission of applications is 13-10-2023 (3:00 PM) at Division of Veterinary Clinical Complex, FVSc & AH, Shuhama, Alusteng.
Date of Interview and venue shall be communicated separately telephonically/ E-mail given in the application.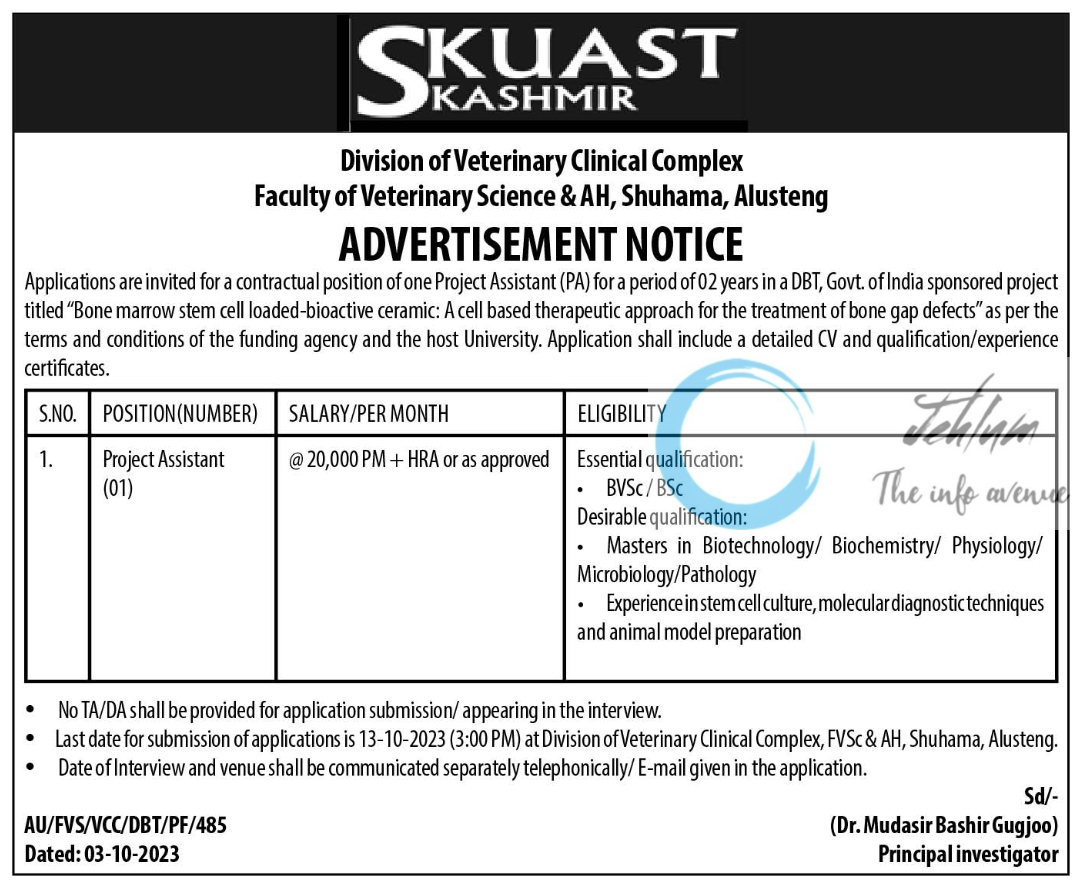 AU/FVS/VCC/DBT/PF/485
Dated: 03-10-2023
Sd/-
(Dr. Mudasir Bashir Gugjoo) Principal investigator
SKUAST KASHMIR DIVISION OF VETERINARY CLINICAL COMPLEX JOBS ADVERTISEMENT NOTICE 2023
SKUAST KASHMIR DIVISION OF VETERINARY CLINICAL COMPLEX JOBS ADVERTISEMENT NOTICE 2023
SKUAST KASHMIR DIVISION OF VETERINARY CLINICAL COMPLEX JOBS ADVERTISEMENT NOTICE 2023
SKUAST KASHMIR DIVISION OF VETERINARY CLINICAL COMPLEX JOBS ADVERTISEMENT NOTICE 2023
SKUAST KASHMIR DIVISION OF VETERINARY CLINICAL COMPLEX JOBS ADVERTISEMENT NOTICE 2023
SKUAST KASHMIR DIVISION OF VETERINARY CLINICAL COMPLEX JOBS ADVERTISEMENT NOTICE 2023
SKUAST KASHMIR DIVISION OF VETERINARY CLINICAL COMPLEX JOBS ADVERTISEMENT NOTICE 2023
SKUAST KASHMIR DIVISION OF VETERINARY CLINICAL COMPLEX JOBS ADVERTISEMENT NOTICE 2023
SKUAST KASHMIR DIVISION OF VETERINARY CLINICAL COMPLEX JOBS ADVERTISEMENT NOTICE 2023
SKUAST KASHMIR DIVISION OF VETERINARY CLINICAL COMPLEX JOBS ADVERTISEMENT NOTICE 2023