SKUAST KASHMIR Faculty of Horticulture Advertisement Notice 2023.
______________________________________________
Disclaimer:-
We, at Jehlum, only post jobs/scholarship updates on behalf of employers/universities. We are only advertisers and as such, we DO NOT know anything about these updates apart from whatever you find in the description of these posts on our website. Our viewers/subscribers are requested not to contact us in order to apply for the jobs/scholarships. Procedures to apply on these jobs/scholarships are already mentioned in the description on our website and everyone is requested to do as directed, in the description, in order to reach out to employers and/or apply for such posts.
In order to stay updated about future jobs/scholarship opportunities, keep checking our WEBSITE(WEBSITE) on a daily basis OR to receive these notification updates on your phone, join our TELEGRAM CHANNEL. Also, for the information of our viewers, we DO NOT HAVE ANY WHATSAPP GROUP, so please don't bother asking about the same. Thanks in advance. You could also follow us on Linkedin(Linkedin)/ INSTAGRAM if you prefer the social media over messaging apps and websites.
=========================================
SKUAST KASHMIR
Faculty of Horticulture Division of Food Science and Technology Sher-e-Kashmir University of Agricultural Sciences & Technology of Kashmir, Shalimar Srinagar Kashmir-190025
Advertisement Notice
Applications are invited from the highly motivated and eligible candidates to work as Young Scientist under the project entitled "Setting up of model walnut processing
unit in district Anantnag of Jammu and Kashmir" sponsored by Rural Technology Action Group (RuTAG 2.0) initiative of the Principal Scientific Advisor (PSA), Gol. The
position is purely on contractual basis and co-terminus with the project.
Name of the position
Essential Qualification
Emoluments/ Duration
Age
Young scientist (1 No.)
Essential:
55,000+HRA
✓ M.Tech./M.Sc. in Food Technology /M.Tech Processing and Food Engineering with NET or Ph.D Food Technology/ PhD in Processing and Food Engineering
✓ At graduation level, candidates must have 4 years degree in B. Sc Agriculture and allied subjects or B. Tech Food Technology or Agricul- tural Engineering/B.Sc Food Technology
Below 35 years. Relaxed up to 40 years for SC/ST and woman.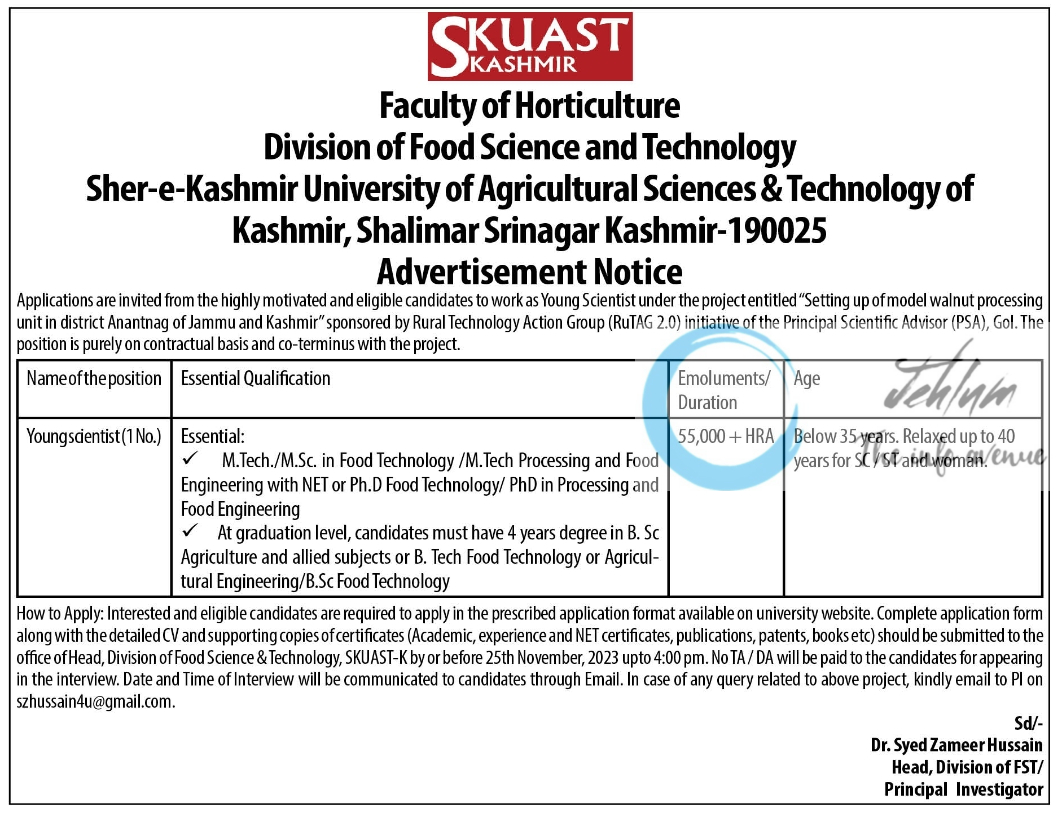 How to Apply: Interested and eligible candidates are required to apply in the prescribed application format available on university website. Complete application form along with the detailed CV and supporting copies of certificates (Academic, experience and NET certificates, publications, patents, books etc) should be submitted to the office of Head, Division of Food Science & Technology, SKUAST-K by or before 25th November, 2023 upto 4:00 pm.
No TA/DA will be paid to the candidates for appearing in the interview. Date and Time of Interview will be communicated to candidates through Email. In case of any query related to above project, kindly email to Pl on [email protected].
Sd/- Dr. Syed Zameer Hussain Head, Division of FST/ Principal Investigator
SKUAST KASHMIR Faculty of Horticulture Advertisement Notice 2023
SKUAST KASHMIR Faculty of Horticulture Advertisement Notice 2023
SKUAST KASHMIR Faculty of Horticulture Advertisement Notice 2023
SKUAST KASHMIR Faculty of Horticulture Advertisement Notice 2023
SKUAST KASHMIR Faculty of Horticulture Advertisement Notice 2023
SKUAST KASHMIR Faculty of Horticulture Advertisement Notice 2023
SKUAST KASHMIR Faculty of Horticulture Advertisement Notice 2023
SKUAST KASHMIR Faculty of Horticulture Advertisement Notice 2023
SKUAST KASHMIR Faculty of Horticulture Advertisement Notice 2023
SKUAST KASHMIR Faculty of Horticulture Advertisement Notice 2023
SKUAST KASHMIR Faculty of Horticulture Advertisement Notice 2023