UNIVERSITY OF KASHMIR System Engineer Jobs Advertisement Notice No 12 of 2023.
______________________________________________
Disclaimer:-
We, at Jehlum, only post jobs/scholarship updates on behalf of employers/universities. We are only advertisers and as such, we DO NOT know anything about these updates apart from whatever you find in the description of these posts on our website. Our viewers/subscribers are requested not to contact us in order to apply for the jobs/scholarships. Procedures to apply on these jobs/scholarships are already mentioned in the description on our website and everyone is requested to do as directed, in the description, in order to reach out to employers and/or apply for such posts.
In order to stay updated about future jobs/scholarship opportunities, keep checking our WEBSITE(WEBSITE) on a daily basis OR to receive these notification updates on your phone, join our TELEGRAM CHANNEL. Also, for the information of our viewers, we DO NOT HAVE ANY WHATSAPP GROUP, so please don't bother asking about the same. Thanks in advance. You could also follow us on Linkedin(Linkedin)/ INSTAGRAM if you prefer the social media over messaging apps and websites.
=========================================
UNIVERSITY OF KASHMIR
NAAC Accredited Grade "A+" |
HAZRATBAL, SRINAGAR
Brief Advertisement Notice No. 12 of 2023 Dated: November 09, 2023
Online Application forms are invited from the domiciles of UT of Jammu & Kashmir for the following post in pay range & pay matrix as given below, available in the Directorate of Informa- tion Technology & Support System, University of Kashmir:
Name of the post
No. of vacancies
Pay Scale/Pay Matrix
Eligibility/ Essential Qualifications
01 (UR)
System Engineer (Data Centre Operations) Post Code: PGD-IT-05
Rs. 50700-160600 Pay matrix 8A
1. B.E/B.Tech in Computer Science Engineering with 55% marks from a recognized Institute/University.
or
B.E/B.Tech in Information Technology Engineering with 55% marks from a recognized Institute/University.
or
B.E/B.Tech in Electronics & Communication Engineering with 55% marks from a recognized Institute/University.
Experience:
2. 05 years of Experience in Data Centre Operations in Government Department (Centre/ State/ UT) or University/ Educational/ Research Institution.
AGE:
The age of candidates as on 01.01.2023 should be:
Not below 18 years; and Not above
40 years in case of Open merit;
42 years in case of Physically Challenged candidates;
43 years in case of SC/ST/RBA/EWS/LAC/PSP/Social caste.
IMPORTANT DATES:
01
Submission of online application forms w.e.f.
02
Last date for submission of online Application forms
No.: F/NT-12/KU/23
Dated: November 09, 2023
DIPK-NB-4160-23
November 10, 2023
November 30, 2023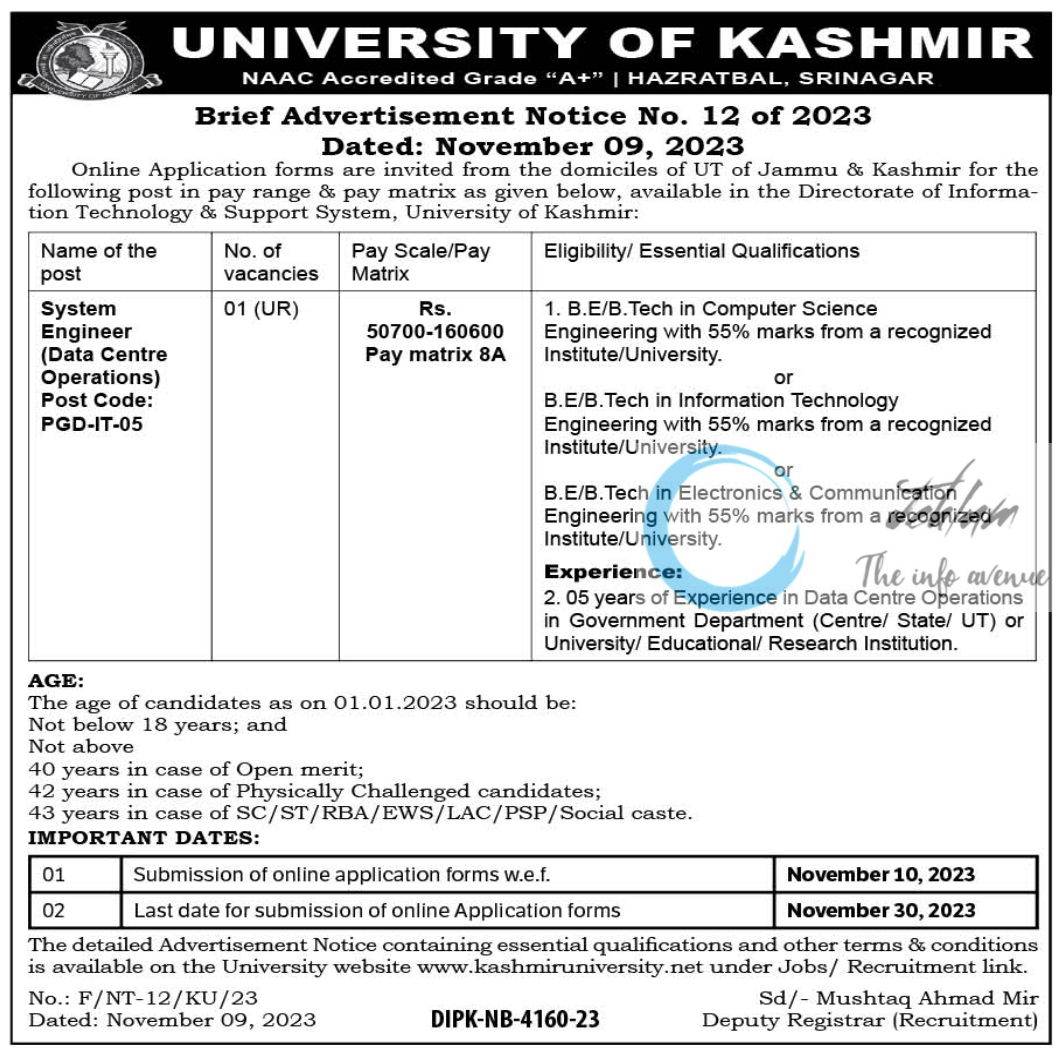 The detailed Advertisement Notice containing essential qualifications and other terms & conditions is available on the University website https://www.kashmiruniversity.net under Jobs/ Recruitment link.
Sd/- Mushtaq Ahmad Mir Deputy Registrar (Recruitment)
UNIVERSITY OF KASHMIR System Engineer Jobs Advertisement Notice No 12 of 2023
UNIVERSITY OF KASHMIR System Engineer Jobs Advertisement Notice No 12 of 2023
UNIVERSITY OF KASHMIR System Engineer Jobs Advertisement Notice No 12 of 2023
UNIVERSITY OF KASHMIR System Engineer Jobs Advertisement Notice No 12 of 2023
UNIVERSITY OF KASHMIR System Engineer Jobs Advertisement Notice No 12 of 2023
UNIVERSITY OF KASHMIR System Engineer Jobs Advertisement Notice No 12 of 2023
UNIVERSITY OF KASHMIR System Engineer Jobs Advertisement Notice No 12 of 2023
UNIVERSITY OF KASHMIR System Engineer Jobs Advertisement Notice No 12 of 2023
UNIVERSITY OF KASHMIR System Engineer Jobs Advertisement Notice No 12 of 2023
UNIVERSITY OF KASHMIR System Engineer Jobs Advertisement Notice No 12 of 2023
UNIVERSITY OF KASHMIR System Engineer Jobs Advertisement Notice No 12 of 2023
UNIVERSITY OF KASHMIR System Engineer Jobs Advertisement Notice No 12 of 2023