GOVT POLYTECHNIC JAMMU JOBS ADVERTISEMENT NOTICE 2023.
______________________________________________
Disclaimer:-
We, at Jehlum, only post jobs/scholarship updates on behalf of employers/universities. We are only advertisers and as such, we DO NOT know anything about these updates apart from whatever you find in the description of these posts on our website. Our viewers/subscribers are requested not to contact us in order to apply for the jobs/scholarships. Procedures to apply on these jobs/scholarships are already mentioned in the description on our website and everyone is requested to do as directed, in the description, in order to reach out to employers and/or apply for such posts.
In order to stay updated about future jobs/scholarship opportunities, keep checking our WEBSITE(WEBSITE) on a daily basis OR to receive these notification updates on your phone, join our TELEGRAM CHANNEL. Also, for the information of our viewers, we DO NOT HAVE ANY WHATSAPP GROUP, so please don't bother asking about the same. Thanks in advance. You could also follow us on Linkedin(Linkedin)/ INSTAGRAM if you prefer the social media over messaging apps and websites.
=========================================
UT OF JAMMU AND KASHMIR
ESTD: 1960 OFFICE OF THE PRINCIPAL GOVERNMENT POLYTECHNIC JAMMU Bikram Chowk, Jammu (J&K) 180-004
Er. Arun Bangotra Principal
Contact No.: 0191-2435373, 2457891
राजकीय बहुशिल्प, जम्मू
विक्रम चौक, जम्मू (जम्मू और कश्मीर) १८०.००४
E-mail:[email protected]
No: GPJ/Estt/F-598/3250-53
Dated: 14.10.2023
Sub: Engagement of Guest Faculty in Mathematics & Physics at Government Polytechnic Jammu.
ADVERTISEMENT NOTICE
Applications are invited on prescribed format from the eligible candidates who are domicile of J&K UT, for engagement as Guest Faculty for the only one academ- ic session Nov-Dec 2023 for conduct of zero classes in Mathematics and Physics subject for academically weak students from time to time with maximum of 20 to 25 hours per session @ remuneration of Rs 500 per Hour to be paid by Board as per norms for the below mentioned discipline:
S.No. Discipline/Subject 1. Mathematics
Qualification
Master in Mathematics from a recognized university
2.
Physics
Master in Physics from a recognized university
The Application as per format (available on https://www.govtpoly-technicjammu.edu.in) accompanied with self-attested copies of the following documents must reach the office of the under- signed by or before 28.10.2023 (upto 04:00 PM) and no Application shall be entertained after the said date and time in any case:-
1. Academic/ Technical Qualification. (Certificate/ Mark sheets) 2. Domicile Certificate.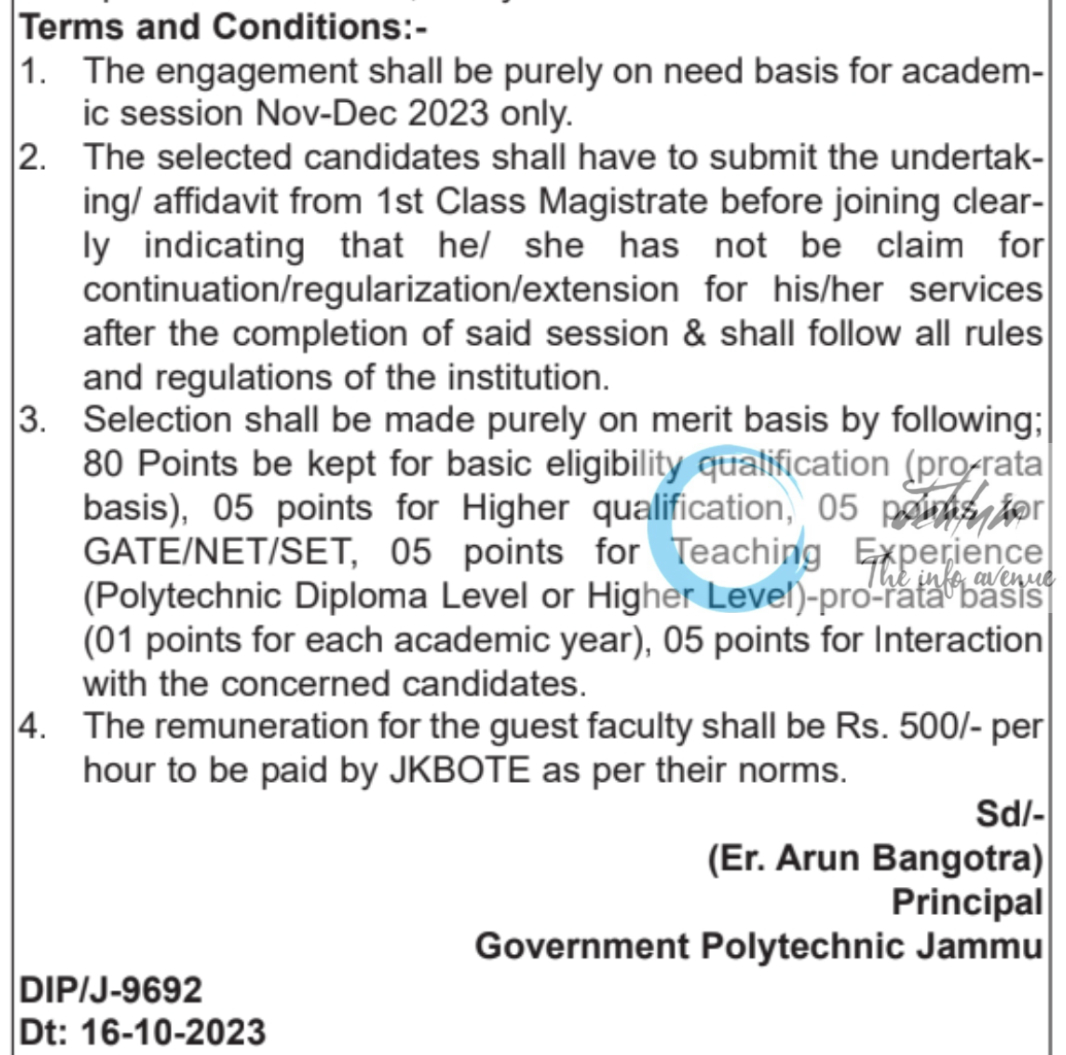 3. D.O.B. Certificate.
4. Experience certificate, if any.
Terms and Conditions:-
1. The engagement shall be purely on need basis for academ- ic session Nov-Dec 2023 only. 2. The selected candidates shall have to submit the undertak-
GOVT POLYTECHNIC JAMMU JOBS ADVERTISEMENT NOTICE 2023
GOVT POLYTECHNIC JAMMU JOBS ADVERTISEMENT NOTICE 2023
GOVT POLYTECHNIC JAMMU JOBS ADVERTISEMENT NOTICE 2023
GOVT POLYTECHNIC JAMMU JOBS ADVERTISEMENT NOTICE 2023
GOVT POLYTECHNIC JAMMU JOBS ADVERTISEMENT NOTICE 2023
GOVT POLYTECHNIC JAMMU JOBS ADVERTISEMENT NOTICE 2023
GOVT POLYTECHNIC JAMMU JOBS ADVERTISEMENT NOTICE 2023
GOVT POLYTECHNIC JAMMU JOBS ADVERTISEMENT NOTICE 2023
GOVT POLYTECHNIC JAMMU JOBS ADVERTISEMENT NOTICE 2023
GOVT POLYTECHNIC JAMMU JOBS ADVERTISEMENT NOTICE 2023